Welcome to Untamed Skies!
First off, I would like to mention that dragons are the main species on here. You can make a character with a different species if you want, but I just wanted to say that dragons are our main focus. With that out of the way, let's begin.
Dragons
Dragons take up the majority of the world. There are all different types of dragons, each with different personalities and temperaments. They are split into four different factions as follows:
The Empire:
LightScales - The Bulkier of the two, mostly with golden and white scales. Using power of light which includes beams of light which burn targets, Also some of the Lightscales have powers to change their scale colour at will. 80ft Max
SkyScales - The more slender of the two, the Skyscale are fast and mobile, taking to the skies mostly with their great talent of hunting and swift attacks. Smallest of all the Scales, yet the fastest. 40ft Max
The Tidal Domain:
SeaScales - The fastest in water, yet second smallest of all the Scales. With colours of blues and greens they have fins along their body in certain places. Being able to breathe underwater, yet without water they become weakened. 70ft Max
The Shadows:
ShadowScales - Third largest out of all Scales, the Shadow are mostly made up of Blacks and greys colours, featuring more slender like forms they are the second fastest thanks to their frame, along with standard scales some have ice instead. Focused towards magic they are normally quite weak against physical attacks. 120ft Max
The Ember Alliance:
FireScales - Second Largest, the FireScales have powers matching volcanos with their own flame burning anything it matches against, weak against coldness and water. Focused towards brute force they are trained towards ways of war. 150ft Max
EarthScales - Largest of the Scales, some standing to 200ft they also use brute force along with poisons mostly from their teeth. With the highest defence they become the slowest of the Scale, leading them vulnerable to fast attacks. 200ft Max
Phoenixes
Phoenixes are the fire-birds of the skies. They are hot heads and generally have bad tempers. They can shoot fire and envelop themselves in flame, making themselves dangerous foes! Don't get on their bad sides!
The Phoenixes are part of the Ember Alliance and have always been loyal to them. 20ft Max
Griffins
The Griffins are more laid back creatures and are slow to be angry. They are very tough fighters though, and will definitely fight when the time is right.
The Griffins are loyal to the Empire. Except for a few rogue ones that are loyal to the Ember Alliance. 40ft Max
Thunder Bird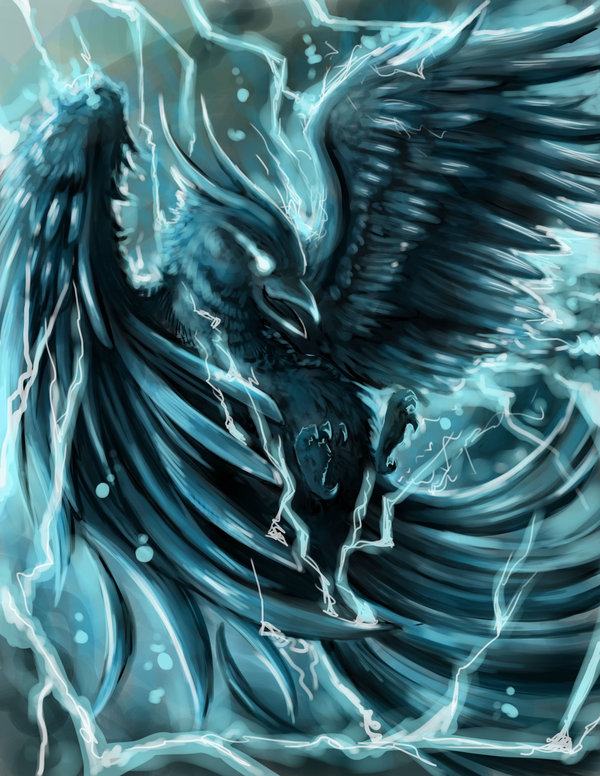 The Thunder Bird is the bird of lightning. They are about the size of a Phoenix. They are non aggressive creatures, but will fight if provoked. Their main defense is shooting lightning. It can also envelop itself in lightning like how a Phoenix does with fire. They can breathe underwater, but most of them prefer to live on small islands.
The Thunder Birds are loyal to the Tidal Domain. 20ft Max
Basilisk
Basilisks are snake-like creatures. They have the ability to paralyze their foes by looking deep into their eyes. It is said that it makes your body feel like stone. They can also constrict their opponents. The Basilisks are very mysterious and not much is known about them.
The Basilisks are loyal to The Shadows and they are the only faction that knows how to control them. 20ft Max
Unlockable Races:
Chimera
As shown above the Chimera has multiple heads with powers from each, mostly known for their insanity and rarely seen they are normally hidden away from others.
Manticore
The Manticore is a flying beast who poison is deadly to the touch, with a head of a lion and body similar to a dragon. Which shoots darts from the tail to paralyse their prey.