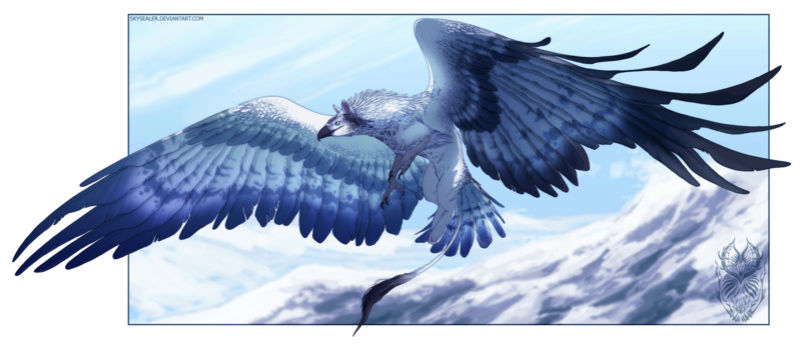 General Information:Name:
Winterspear
Alias (Nicknames):
Winter
Gender:
Female
Age (State this in human years):
22
Sexuality:
Heterosexual
Species:
Griffin
Faction:
The Sky Empire
Rank:
Guardian

Appearance:
Scale/Feather/etc Appearance:
White feathers mostly with blue patterns and tips on the edges.
Height:
28ft
Weight:
1000kg
Length:
35ft
Wingspan:
20ft
Eye colour:
Orange
Appearance (give at least a 5 sentence paragraph!):
Winter is mostly like a normal griffin, with white feathers and with a slightly curved beak. Her feet are talons matching her white colour along with her fur underneath the feathers. She only has a feather tail which isn't too long only to help her fly in the air. Her wings are made up of large feathers which all have a blue pattern giving her a unique look which is easy to spot. Her beak colour is grey which has a few ridges on the bottom almost like small spines with a pointing tip right at the top of her muzzle.

Personality:Likes:
Flying in the cold, Relaxing watching the view, Creating drawings
Dislikes:
Fire, being too hot, getting soaked from water.
Fears:
Being set on fire, a fairly reasonable fear due to her feathers and fur it would be devastating for her well being.
Personality (At least 5 sentences!):
Winterspear is a calm yet playful individual, enjoying the company of others from which she has few friends. She is shy towards new people but as she gets used to them her true self is revealed. Having a lovable nature she enjoys hugs and play fighting, matching with her creativity she enjoys drawing and giving gifts to people she likes. Yet Winter does have a short temper as many of griffins do, so she is likely to argue randomly or worse starting a fight, though she doesn't intent this as she wishes to be peace and rid of this temper.  
Background:Family (Blood):
Mother: Unknown , Father: Unknown
Family (In-laws):
N/A
Mate (put N/A if she/he has no mate):
Not Yet
Hatchlings (Put N/A if she/he has no mate):
Nope
Breed (is your character a pureblood or a hybrid?):
Pureblood Griffin
History (At least a 5 sentence paragraph!):
Winter was an orphan in the beginning as her parents had sadly died sadly over the recent war with the ember alliance, both of them were proud fighters who protected the empire. Some say that they where once royalty but it was never confirmed as there are only a few griffin left which reside in the Empire. She was taken in and looked after by a family of dragons she even had brothers and sisters yet she felt like an outcast due to her different looks, for many years she thought herself as a dragon only when she turned of age of 13 she realised the fate of her real parents. As time moved on she grew distant with her adopted parents with her finally leaving at the age of 17 she lived by herself finding peace drawing.  

Abilities:Strengths:
Her large wingspan is great for flying to high altitudes, along with her nimble form.  
Weaknesses:
Fire, as stated with her fear fire would damage her fur and feathers.
Abilities (Magic abilities):
N/A
Abilities (Physical abilities):
Beak Rush, with her fearsome beak she can do heavy damage with biting at rapid speed.
Sample RP post:
Winter laid with her talons overhanging the cliff side overlooking the empire below, smiling she noticed the sun was peaking through the clouds, deciding to pay the capitol a visit she took to her feet and dived below gliding towards the castle structure.  
Alt If Applicable:
Arkhor, Devi